Has it ever crossed your mind that you could be studying at an American University? Have you ever considered applying to New York University but you felt discouraged because there are "so many more students who are smarter and brighter than you are"? Well, this is certainly not true and I am here to help you with your NYU Application.
When should you start?
One of the biggest mistakes you can make is not starting too early. Applying to an American University is a long process; not only do they require a lot of documentation from you but they also want loads of other details (which you will discover when filling out your Common Application and Financial Aid). Furthermore, your application must stand out from 75,000 other applications which requires time and effort. I applied for Early Decision 2 and I started making my application in August, which (for me) was enough time.
If you are also applying to universities in Europe, Asia, etc you will encounter many different requirements and application processes. For example, the Common Application essay is a lot different to the British UCAS essay.
The countries in which I have applied to universities are the following: USA, the United Kingdom, the Netherlands and Hong Kong. The latter in which I applied to the University of Hong Kong. Each of these application processes were highly diverse and required very different things. Therefore, do not copy paste your application essays!
→ Pro Tip is, do some research around each university and have a few facts about them to utilize in your application when explaining what makes them special and why you are applying.
Application and grade requirements
The academic part is also highly important, but also; do not discourage yourself for having a few lower grades. I did the International Baccalaureate (IBDP) and I did not have straight 7s. However, I would advise you to try and get as high (and realistic) predicted grades as possible. While most people admitted to the class of 2023 had points combined over 40, there were a few students with 32 or 35 points as well.
The Common App essay, the 'Why NYU' essay, the teachers' recommendations, and the Common app Activities are really important. Proofread everything, maybe even 100 times. Because once you hit 'send' there is no turning back.
→ Pro Tip: There should be no grammar mistakes and it should not be ambiguous. Perhaps, ask your family/ friends/ English teachers to proofread it too, but do not ask too many people.
The interview part
On January 18th I received an email titled "Your Application to New York University | An Interview Request" and my joy was surreal. In that moment I had a confirmation that my application was on the right track. In the following days I had a Skype interview with Lauren Benedict (NYU Admission Ambassador) which lasted 20 minutes. She asked me a few questions such as: "tell me about yourself, why NYUSH, tell me about a challenge you encountered when working with a team and how did you solve it, any questions?"
→ Pro Tip: not every student receives an interview invitation as it is not a mandatory procedure.
→ Pro Tip: send a thank you email after your interview.
Did I get in?
The big day finally arrived on February 14, 2019. At 23 o'clock (GMT+2) NYU Albert was updated and I was able to click more buttons than before: 'Admitted student's portal', 'Application Status'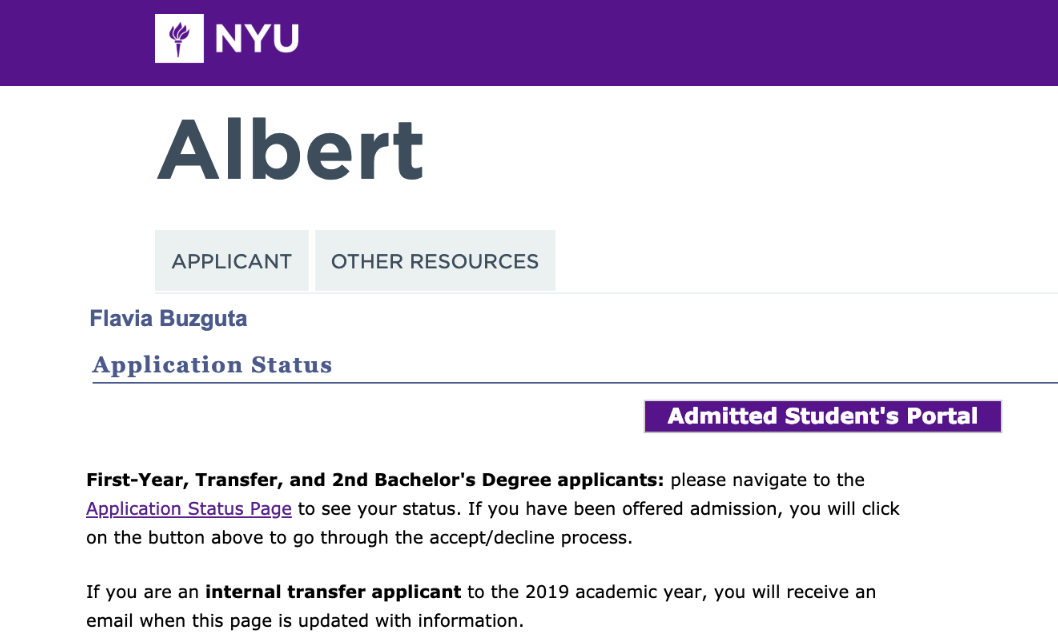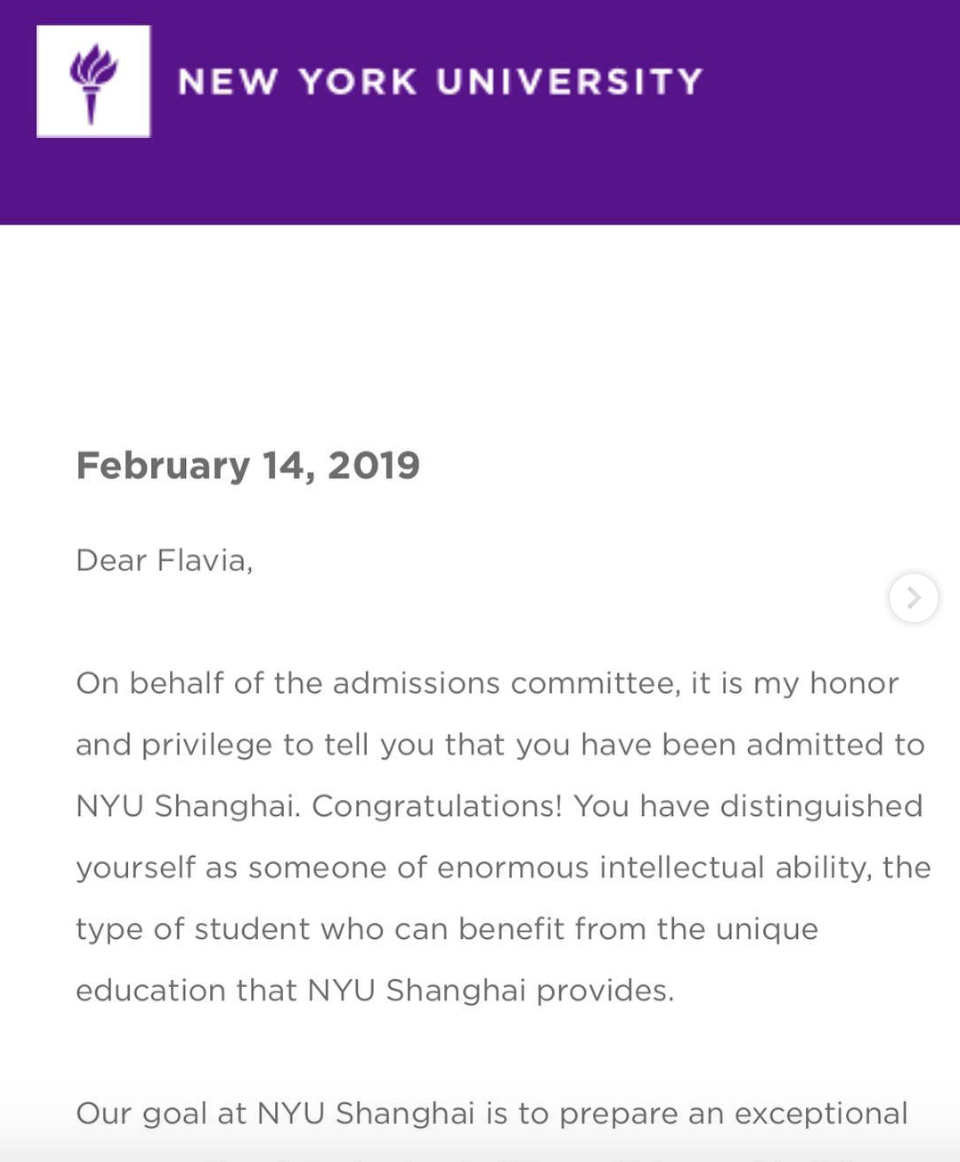 Can you finance your education?
Unfortunately, this is the part I have failed at. Based on previous years, NYUSH gave out full rides to the majority of its (international) students, or at least they had covered more than half of the tuition cost. However, this was not the case in my year.
I emailed and called NYU, before I applied, to ask more specific questions about the excact mount of finance/ grant that I would be eligible for, but they said "we first need to see your financial aid application before we can state anything".
After I received my acceptance letter (Yay, I made it!) I couldn't enjoy it as much as I should because I immediately looked over the financial part of it. Which I regret - I wish someone would have told me "just celebrate your accomplishment and leave the money part for later". I received $35.000 scholarship and grant combined (tuition $69.000 - first year). This is also what the majority of the NYUSH 2023 class received.
NYU is great but their Financial Aid (Office) help is unfortunately sufficient enough. The moment they hear you are unable to finance your NYU education, they stop being so helpful (from my experience). To quote one of my friends, Kinga, "Dreams come true but scholarships don't".
However, it was a great accomplishment to get accepted into my first university choice, NYU Shanghai. It was also a great learning experience and I got to connect with great people (class of 2023) from around the world whom I still keep in contact with.
Written by Flavia Buzguta